2021 SAGA Reunion
86th Annual SAGA Reunion in Saskatoon, Jan 9th, 2021.
2021 SAGA Reunion
Jan 9th, 2021
TCU Place
Saskatoon, SK

Online ticket sales begin Sep 1, 2020 @ 12:00pm (12:00)
and end on Jan 6, 2021 @ 12:00pm (12:00)


Earlybird until Dec 24, 2020 @ 11:55pm (23:55)
$75 Banquet & Mixer
$15.00 Mixer Only

After Dec 24, 2020 @ 11:55pm (23:55)
to Jan 6, 2021 @ 12:00pm (12:00)
$85 Banquet & Mixer
$20.00 Mixer Only

At the door on Jan 9, 2021
$20.00 Mixer Ticket

Mixer tickets for Agriculture students Free but must show U of S student card.
---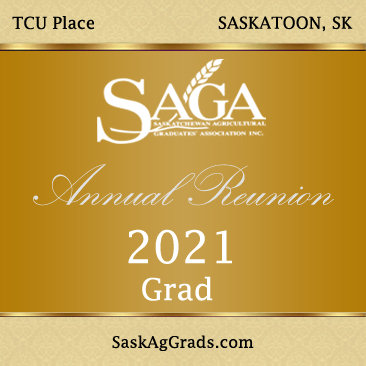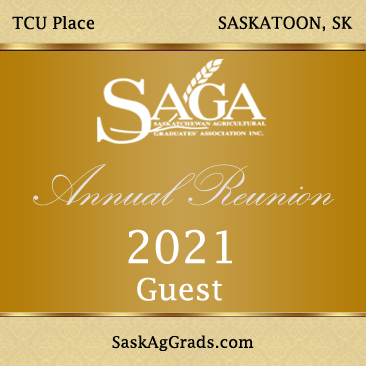 College Of Agriculture and Bioresources Friday Night Social
Friday, January 8, 2021
4:00 - 7:00 PM
Agriculture Building, Student Lounge
FREE!
Come and join your fellow grads for some reminiscing (remembering big, perhaps) and networking. For those who have a dinner or other event that night, come early before you go and see grads from other years. The atmosphere will be relaxed and informal. The stories told will all be true.

Enjoy displays of memorabilia, class composite maps or the tours offered throughout the evening including:
- Art Tour in the Agriculture Building
- Phytotron Tour
- Agriculture building history and old stomping grounds tour (John Mitchell, Kirk Hall, and Archaeology (Crop Science) Building tours)

Refreshments will be provided, compliments of Dean Buhr. Snacks courtesy of Louis Bossaer, Three Farmers, and Blair's Ag.
Parking is available, for a fee, under the Agriculture Building. Turn South off Campus Drive onto Science Place and go around past the Agriculture Canada Building and turn in to the South-west corner of the building, just before you get to Kirk Hall.
Look forward to seeing many of you there.


SAGA Reunion Banquet
Saturday Jan 9, 2021
TCU Place, Saskatoon (formerly the Centennial Auditorium)
4:30 pm – Cocktails
5:30 Pm – Dinner and Program to follow
- Group photos to follow dinner
8:30 pm - Annual General Meeting
SAGA Members Mixer
Saturday Jan 9, 2021
8:30 pm at TCU Place
SAGA Hockey Tournament
Saturday Jan 9, 2021
Waldheim Rec Centre, Waldheim, SK
For more information contact: Chay Anderson '14 C  chayanderson92@hotmail.com   (306) 640-7087